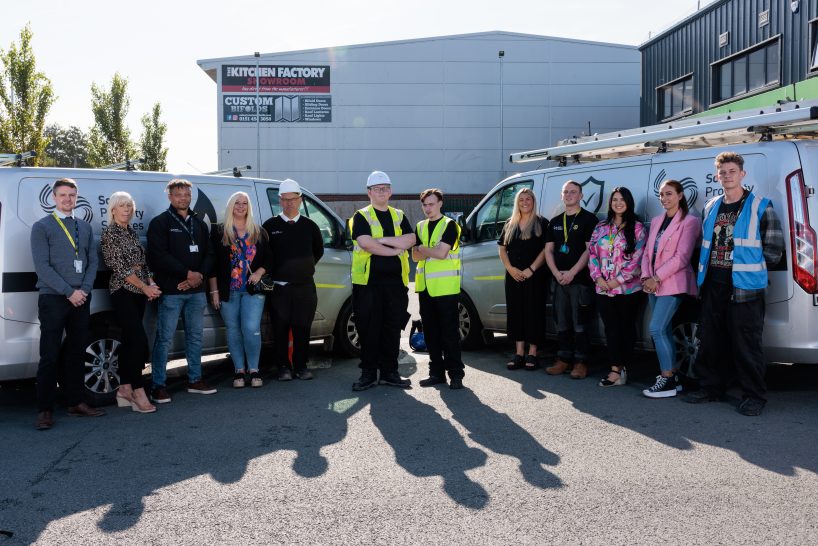 We have proudly welcomed ten new colleagues into the Group on our apprenticeship and supported internship programmes, delivering on our mission of creating opportunities and changing lives.
Supporting over 30 traditional apprentices across the Group in a diverse range of roles, including housing management, trade apprenticeships and business administration, we are passionate about investing in the workforce of the future.
All trade apprentices are provided with a fully equipped toolkit worth over £300 when they join the Group, allowing them the opportunity to start working to learn the trade on day one.
Summer Fitzmaurice, Apprentice Plumber and Domestic Heating Technician, and part of the 2023 cohort said: "I am proud to have secured an apprenticeship with The Sovini Group and am grateful to the organisation for investing in my future. As a young female apprentice working in construction , I hope to inspire others to consider a career in the industry, something the Group are also passionate about promoting."
After successfully completing the Group's innovative pre-supported internship, two individuals have secured a place on the 2023/24 supported internship programme.
Offering meaningful employment opportunities for neurodiverse students, the programme is designed to support young people with special educational needs and disabilities (SEND) to overcome the barriers they face when seeking employment.
Chloe Foran, SEND Employment Support Officer at Liverpool City Council, who we partnered with to deliver the supported internship programme, said: "Only 4.8% of people in England and 4.1% of people in the Northwest with a learning disability and/or autism who are known to local authorities go on to secure paid employment, compared to 80% of their peers. The supported internship placements created by The Sovini Group are such a fantastic chance for young people to gain meaningful hands-on practical experience within the construction industry. These opportunities are so valuable and life changing for individuals with learning disabilities and/or autism on their journey to employment."
The programme will see them undertake three 10-week placements with Group partners Sovini Construction and Sovini Property Services and aims to support them to secure an apprenticeship at the end of the internship.
Kerry Beirne, Chief People and Communications Officer for The Sovini Group said: "It's extremely rewarding to know that we are making a real difference to young people's lives, offering them opportunities that they may not have had otherwise to give them the knowledge and experience to kickstart their successful careers. We are proud that we have created a culture in which inclusion is ingrained, and diversity is celebrated. This marks the beginning of an incredible journey filled with growth, learning, and endless personal and professional opportunities for these individuals."