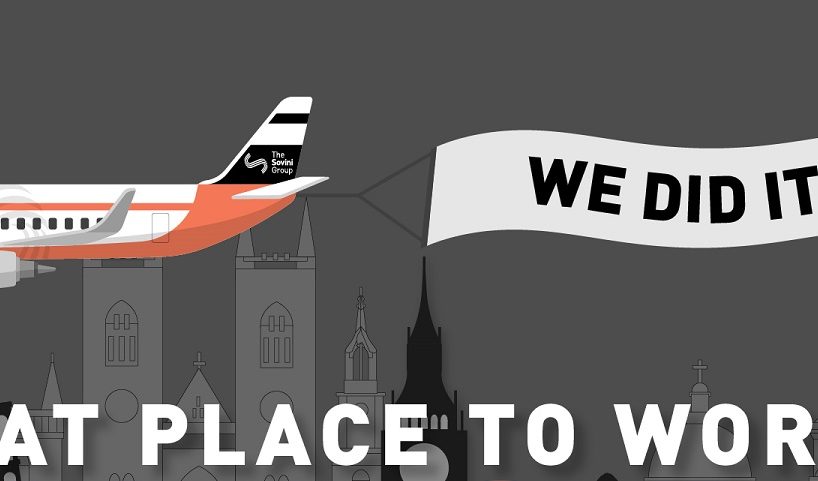 The Sovini Group has been named number three in this year's Best Workplace In Europe™ (Large Category).
This follows earlier successes this year, when the Group achieved pole position as both the UK's Best Workplace and UK's Best Workplace for Women.
All three accolades place the North West based construction, property and facilities company ahead of major global brands. The list publication comes amid the COVID-19 crisis, which has upended daily life and business operations throughout the European region.
Organisations on the list are leading the way amid the pandemic, demonstrating care for their employees, their customers and their communities during this difficult time.
"To achieve this prestigious accolade is another great achievement for our Group. We are incredibly proud of our track record in consistently being awarded top UK employer status for the past 10 years. It is testament to the hard work of all our employees." Commented Roy Williams, CEO of The Sovini Group
"The level of commitment and dedication shown by our staff is what makes The Sovini Group such a great place to work. It's this commitment which fuels our fantastic company performance and will ensure our ongoing future success."
The Sovini Group, established in 2011, has expanded rapidly through a mixture of organic growth and successful acquisitions and is a major regional employer with over 850 staff and 50 apprentices. Its growing commercial activities complement and support its social and not-for-profit businesses and profits are reinvested to build new homes for its One Vision Housing and Pine Court Housing Association registered providers, improve service delivery and support the communities who remain central to its business. The Group owns, manages and maintains in excess of 13,600 homes, rising annually through an active development programme.
"The COVID-19 pandemic highlights how critical it is for organisations to establish great workplaces for all employees prior to crises," said Michael C. Bush, Global CEO of Great Place to Work.
"The trust, care and agility that are the bedrock of Europe's best workplaces help these organizations, their people and their communities survive and even thrive during periods of significant economic and personal stress."
To be considered for the 2020 Best Workplaces List in Europe, companies must appear on one or more Great Place to Work national lists in the region, which includes Austria, Belgium, Denmark, Finland, France, Germany, Greece, Ireland, Italy, Luxembourg, Norway, Poland, Portugal, Spain, Sweden, Switzerland, Turkey, The Netherlands, and the United Kingdom. Great Place to Work analysed survey results representing over 1.46 million employees in Europe to determine the list.
Great Place to Work's global research shows that high-trust cultures for all employees are the defining characteristic of great workplaces, but that there are some regional variations. Best Workplaces in Europe stand out for their unusually equitable cultures compared to most of the world. Employees in Europe believe promotions are fair, that there is equal opportunity for special recognition, and that company profits are shared fairly to a degree that is unusual around the world. The Best Workplaces in Europe also distinguish themselves through leaders whose actions match their words and who avoid workplace politics as a way to get things done.