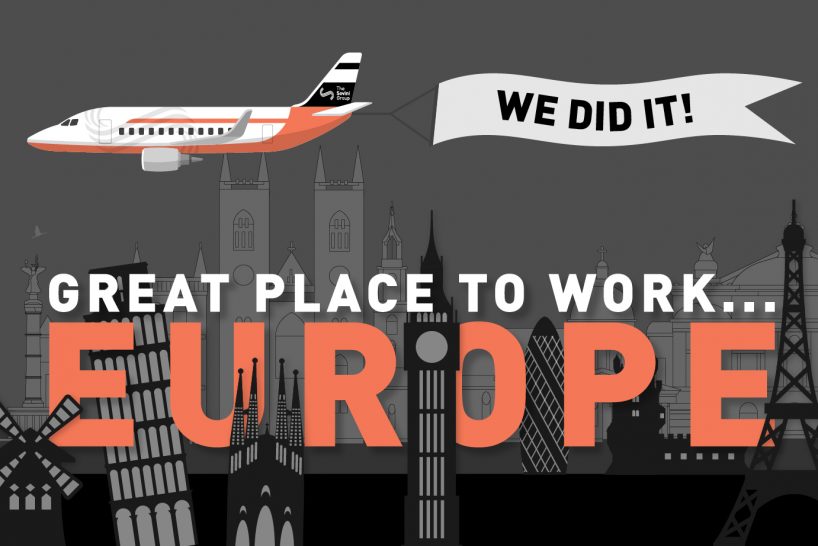 The Sovini Group has ranked in the top ten Best Workplace In Europe™ (Large Category), the highest of any UK company.
The Group has consistently been recognised as one of Europe's Best Workplaces and was secured the top spot in the UK list earlier this year.
Organisations on the list are recognised as providing a great employee experience and building an exceptional workplace culture.
Roy Williams, CEO of The Sovini Group said "We are proud to have consistently achieved top 10 European employer status over the past five years. The last couple of years have been particularly difficult for businesses across Europe and indeed the world.The level of commitment shown by our staff to maintain fantastic performance and retain our workplace culture is what makes The Sovini Group a great place to work."
The Sovini Group, established in 2011, has expanded rapidly through a mixture of organic growth and successful acquisitions and is a major regional employer with over 850 staff and 50 apprentices. Its growing commercial activities complement and support its social and not-for-profit businesses and profits are reinvested to build new homes for its One Vision Housing and Pine Court Housing Association registered providers, improve service delivery and support the communities who remain central to its business. The Group owns, manages and maintains in excess of 13,600 homes, rising annually through an active development programme.
Ben Gautrey, Managing Director of Great Place to Work UK™ commented "The Europe's Best Workplaces list showcases award winning organisations with outstanding workplace cultures."
To be considered for the 2020 Best Workplaces List in Europe, companies must appear on one or more Great Place to Work national lists in the region, which includes Austria, Belgium, Denmark, Finland, France, Germany, Greece, Ireland, Italy, Luxembourg, Norway, Poland, Portugal, Spain, Sweden, Switzerland, Turkey, The Netherlands, and the United Kingdom.