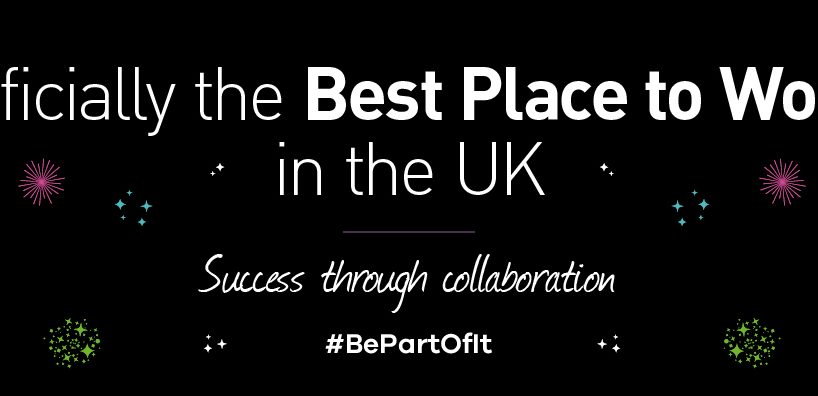 The Sovini Group has been recognised by Best Workplaces™ as the top large employer in the UK for the second year running.
The North West based construction, property and facility services company achieved the accolade for the third time (2018, 2020 and 2021).
The award was presented by actor and comedian Alexander Armstrong in an exciting online awards ceremony.
Best Workplaces™ help organisations create exceptional, high performing workplaces where employees feel trusted and valued.
The Group has been recognised for its approach to inspiring confidence in employees and creating a great place to work.

Following COVID-19, employers from across the globe have reshaped their organisations and the way in which they work. In spite of the unprecedented challenges of the pandemic, The Sovini Group has continued to thrive and build on its ethos to 'create opportunities and change lives'.
Comedian and Presenter, Alexander Armstrong, said: "The Sovini Group has ranked in the top 5 companies since 2017, an impressive track record of prioritising and remaining a culture of trust, which is recognised by their strong position on the UK's Best Workplaces list."
CEO of The Sovini Group, DR Roy Williams, added: "Any organisation is only as good as the people it employs. Without our people, we wouldn't have a business. For us to come out as number one again in the current operating environment is really special. I cannot tell you how pleased we are."

The Group fought off tough competition to win the number one spot including Adobe, NHS Shared Business Services, Adecco, as well as many other known household brands and companies across the UK.
Since its inception in 2011, the Group has grown rapidly through a mixture of organic growth and successful acquisitions, and has recently expanded its operations in to Derbyshire and the South East. 
The Group's growing commercial activities complement and support its social and not-for-profit businesses – One Vision Housing and Pine Court Housing Association. Profits are reinvested to build new homes, improve service delivery and support the communities who remain central to its business. 
Based in the North West and employing over 800 staff, The Sovini Group is a key contributor to the social and economic development and future growth of the region. 
If you missed the live event, you can catch up here: