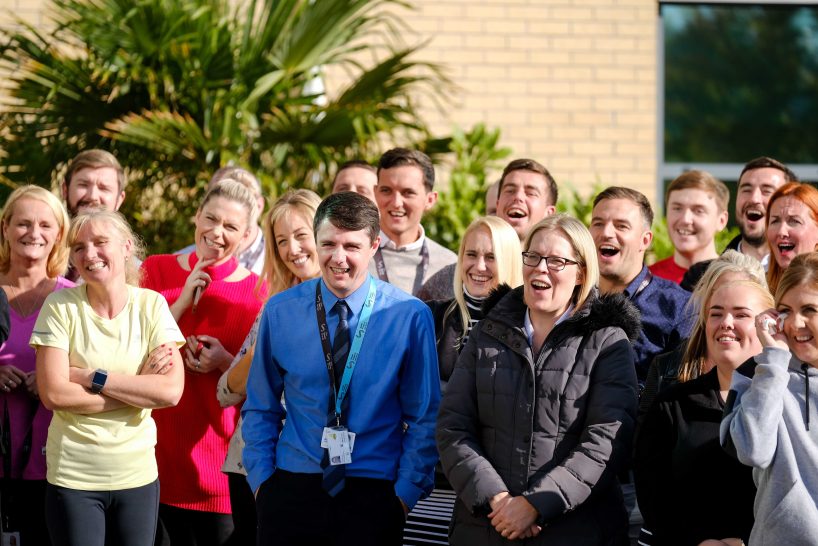 We are turning the spotlight on employees across the Group during National Careers Week
Neil Kenwright, Neighbourhood Services Manager
Neil has worked for One Vision Housing for over 13 years and describes his role as a Neighbourhood Services Manager as "strategic, challenging and rewarding".
What is your favourite part of your job?
I am performance driven, so achieving our objectives is easily my favourite part. I also love helping my colleagues to improve their skills and gain promotions. I feel really proud to see how well they are all doing.
Do you have any career highlights?
I have been very fortunate to have had the support of our Executive Management Team and some motivated, talented colleagues during my career. Whilst I have many career highlights, they wouldn't have been possible without their support.
• Contact Centre Manager at the Call North West awards in 2010
• Customer Service Manager at the European Customer Service Awards in 2011
• Best Customer Experience & Contact Centre at the Customer Contact Association awards in 2012
• Management of our Property Pool Plus integration
• Achieving over 100% rent collection during 2019/20 and 2020/21
What piece of your advice would you give to someone starting their career?
• Use your strengths to help you progress, never give up, believe in yourself, and be ambitious.
• Keep learning and developing, whilst listening to others and asking for advice.
• Plan, do and review! Always spend time looking at what you are doing, why you are doing it and what you want to achieve, then consider how you can improve.
• Motivation is your own desire to do something. Whilst working, ask yourself "why am I doing this?" and if you have a self-motivated reason, this will give you a great platform for success. If you don't have a strong reason why, consider doing something else that you are motivated to do.
Jacque Atkin, Housing Assistant
Jacque has worked for Pine Court Housing Association for ten years and describes her role as a Housing Assistant as happy and fun.
What is your favourite part of your job?
Helping people, whatever we do, we are helping people and increasing their quality of life.
Did you need any qualifications to get your job?
No, but I needed the language skills. I speak mandarin, Cantonese, and English.
Which piece of advice would you give to someone starting their career?
A can-do attitude will help you anywhere you go. You will learn fast and get on with customer and colleagues better.
Do you have any career highlights?
• Winning Pine Court's Employee of the Year in 2016
• Completing my NVQ level two qualification, I have learned a lot on this course such as policies and customer service
Emily Woods, Warehouse Assistant
Emily completed her apprenticeship in November and has secured permanent employment as a Warehouse Assistant for STS.
What are your short- and long-term career goals?
My short-term goal is to keep learning and expanding my experience and my long-term goal is to progress into a more senior role.
Do you have any career highlights?
I am proud of completing my apprenticeship and becoming a full-time employee at STS. I am also proud of achieving Apprentice of the year award and being nominated for a lot more awards.
What are the key skills that you have mastered throughout your journey?
Understanding business needs and working towards a goal, but also customer service I think that is a big key skill to master throughout your experience.
What opportunities have been provided from the Group in terms of development?
A lot of opportunities have been provided from the group, one being women in construction, another one being given time to gain my qualification. Another opportunity that was given to me is allowing me to build up my confidence and allowing me time to learn different skills.
Interested in a career at the UK's Best Workplace™? Start your journey HERE