Operations Manager, Dan McGregor and Estimator, Ross Rimmer celebrate commendable award success.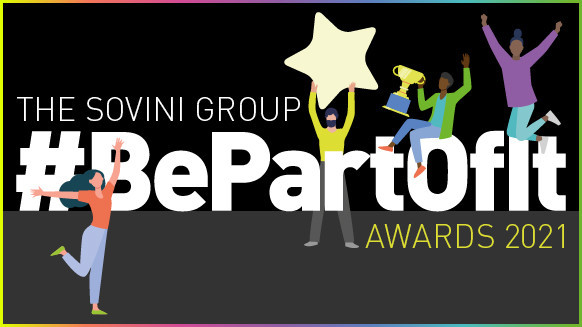 The Sovini Group hosted their first ever #BePartOfIt awards to showcase the achievements of individuals and teams across the organisation who go 'above and beyond' and embed Sovini's core values of Success, Passion, Authenticity, Courage and Enterprise within their work.
The awards were voted for internally by over 800 employees across the group.
The categories covered; OurSpace Engagement Champion, Equaility Diversity and Inclusion Ambassador, Health and Wellbeing Ambassador, Technology Champion, Influencer of the Year, Self-Starter, Best Newcomer and Biggest Personality.
A huge congratulations to the Teal Team who were recognised across the board.
Teal Scaffolder, Kyle Butler was nominated for best newcomer, Operations Manager Dan McGregor was voted as The Sovini Groups Influencer of the Year and Estimator, Ross Rimmer was awarded Engagement Champion of the Year.
Scaffold Supervisor, Freddie Lambert shares:
"On behalf of the Teal team I would like to extend a huge congratulations to Kyle for being recognised and Ross and Dan for their achievements. When you have great bosses and a leadership that has 100% trust in your abilities, then work becomes so much more and that's exactly the positive and proactive environment that Dan and Ross have created for #TeamTeal".
The team at Teal Scaffold are incremental to the continued success and growth of the company. With consistent investment in personal development and a proactive approach to health, safety, and wellbeing. Teal have built the highest skilled and motivated team in the business who empower and train employees so that they feel valued and realise the contribution they make to the business and clients.