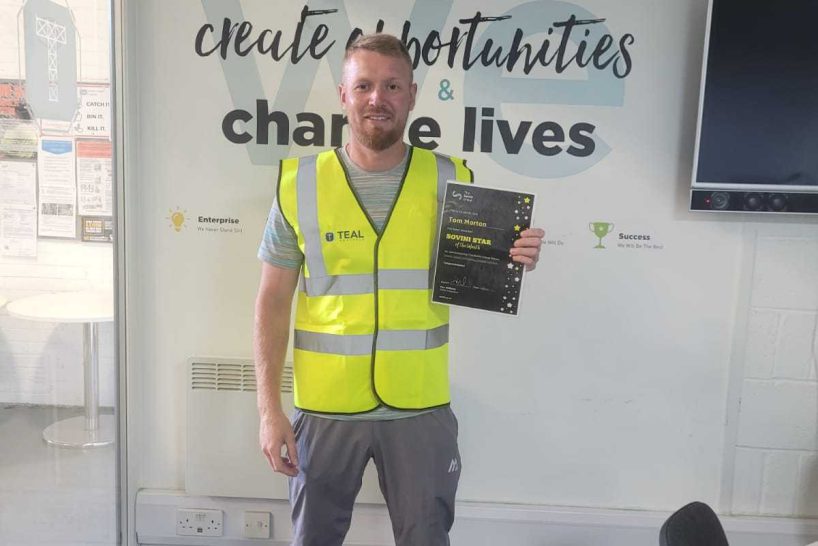 Chargehand Scaffolder Thomas Morton has been selected from over 850 employees across The Sovini Group to be awarded with the star of the month for May 2022.
Each month the Sovini star of the month award is presented to celebrate and recognise The Sovini Group's outstanding employees and this month Tom has been highly praised for his hard work and dedication to the job.
Tom received an overwhelming number of nominations from his colleagues who highlighted his knowledge, experience, leadership skills and productivity.
Since joining Teal Scaffold in 2019, Tom has achieved an outstanding portfolio of certifications including his HAKI CISRS Product accreditation.
Tom shares:
"To be recognised for the award means a lot to me. Every day I am aim to develop my skills, my company and all my colleagues. I am incredibly proud that my dedication to the companies success has been acknowledged".
Head of Operations, Dan McGregor adds:
"#TeamTeal are all extremely proud of what Tom has achieved in the last three years. He is an exemplary figure in our team and truly represents the values of Teal Scaffold and The Sovini Group. Tom epitomises our ethos of investing in our people and how it is not only the right thing to do, but also proven to be essential in delivering our sustainable results".
Teal Scaffold currently have vacancies including; Advanced Scaffolders CISRS, Part 2 Scaffolders CISRS, Labourers with an minimum of CSCS/COTTS, PASMA tower erectors and HGV license holders. If you are interested in joining one the UK's Best Workplaces you can apply for the above roles by sending your CV and expression of interest to info@tealscaffold.co.uk.
Learn more about Teal Scaffold here.