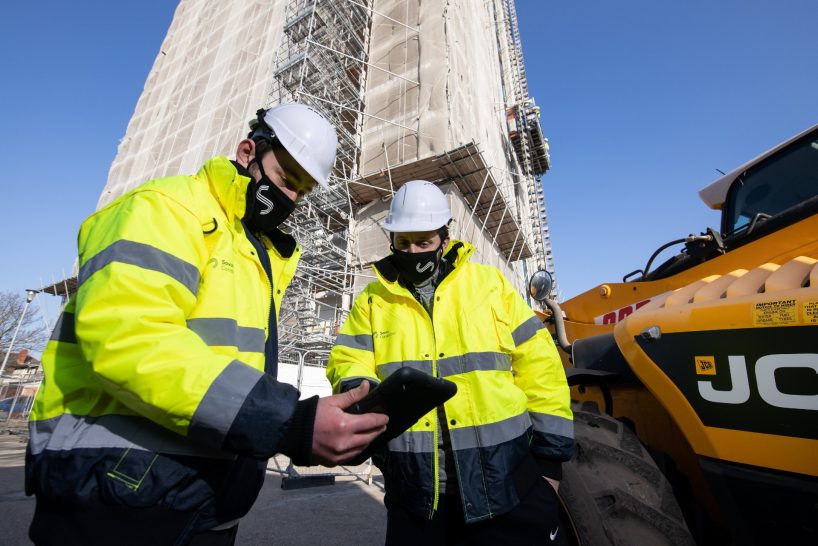 Teal Scaffold were granted the opportunity to take on the momentous project of completing extensive refurbishment at One Vision Housing's Oxford House, which houses 91 residents.
Renovation costs were budgeted at £4.70m, of which One Vision Housing have received circa £650k Grant Funding from European Regional Development Fund (ERDF).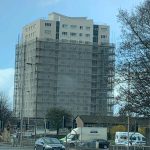 Alongside One Vision Housing, Teal Scaffold is also a part of the Sovini Group and competitively priced against other Scaffolding Contractors within the Northwest. Weighted on cost, our proven reliability, commitment, and technical ability to deliver complex and wide-ranging projects we were awarded the contact.
Kevin Quilliam, Head of Operations at Sovini Property Services provided an insight into the success of the project.
He said: "Teal Scaffold provided a professional and supportive service throughout the life of this Retrofit for the Future project. From pre-construction to project completion, in a challenging location often subjected to difficult weather conditions, Teal staff were on hand to provide the necessary advice and expertise required to enable our staff to fully access our areas of work.
The purpose of the planned work was to update and improve the internal environment of people's homes by installing new, more controllable heating and ventilation systems. The project looks at a whole place solution that will improve the energy efficiency of the block.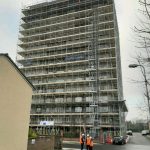 We remain committed to the Groups Zero Carbon pledge, which is to be achieved through improved building fabric, improved internal environment, and in coordination with behavioural changes.
This has been achieved by improving the thermal envelope of the building by installing external wall insulation and better performing windows, along with a new insulated roof and improved flat entrance doors. Teal Scaffold worked alongside Buckley Design Solutions to complete an adaptable and accessible scaffold design to suit all trades with minimal alterations as well as Yorkshire Hoist Engineers for the provision of a goods and passenger hoist.
All factors above contributed to the delivery target of delivering a carbon tonnage saving of 33 Tonne per annum.
Our company sourced all materials from a local scaffold material provider only 3 miles from the Oxford House (George Roberts Scaffolding Ltd)
We were able to employ 6 new team members all from the Merseyside area and provide further training for them all whilst working on this project. Our Scaffolding Supervisor, Freddie Lambert received the ANSC Supervisor of the Month Award upon completion and handover of the scaffold which was based on the following:
Successful to the Client of a project between £250,000 – £500,000
Highest scoring Supervisor / Manager (as scored by Client Customer Satisfaction Surveys)
Zero accidents throughout the project delivery
Consistent high audit scores from both internal and external auditors
Innovative productivity solutions
24/7 visibility and communication for all stakeholders
The finished building has benefitted from a new render system to give it a more modern and aesthetically pleasing look.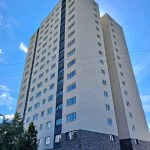 Further to this One Vision House have engaged the services of Liverpool John Moore's University (LJMU) to carry out continuous monitoring of the energy demand before, during, and post construction works.
The involvement from AA Projects and LJMU spans from Pre-Construction Phase right through to Post Construction over a 12-month period.
The project was procured under a JCT Design & Build contract and therefore quality was initially developed in conjunction with Architects through robust Employers Requirements.
OVH obtained Local Planning and Building Control Approval of design and specification and carried out vigorous on-site inspections and supported by Collateral Warranties.
Work was completed to our very high standard, was in line with what was in the agreed scope, within agreed timescales and to budget.
Teal Scaffold will welcome the opportunity to price and provide our specialist services to any other clients seeking expert contractors for similar works.
Dan McGregor – Operations Manager