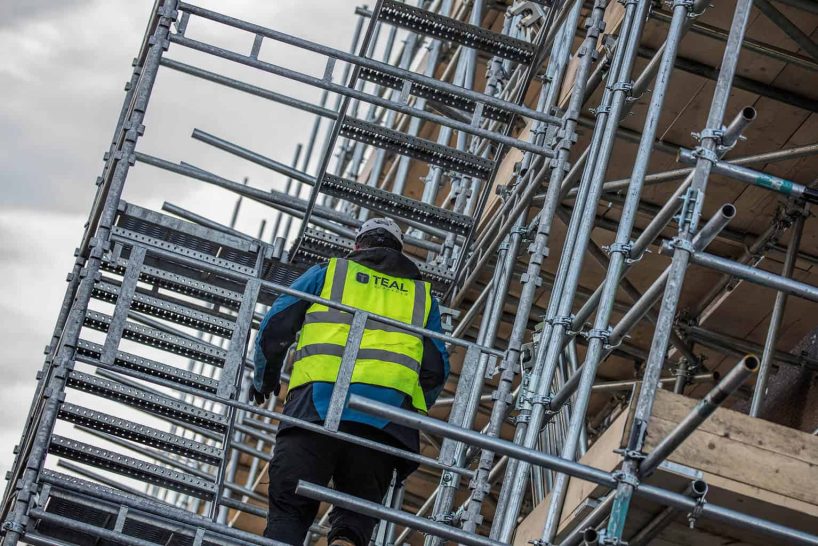 To mark Testicular Cancer Awareness Month, Northwest firm Teal Scaffold is encouraging its team and urging the wider industry to perform self-examinations.
Teal Scaffold is backing the national campaign to highlight the importance of self-examination and regular testing. It is widely reported that testicular cancer most often develops in young and middle-aged men between 20 to 30 years old.
The company's management is going to great lengths this month to stamp out the stigma, to promote positive male health and wellbeing.
As part of the UK's Best Place to Work, The Sovini Group, the scaffolding company plans to build on their momentum of raising awareness of testicular cancer beyond April, encouraging, and signposting the Group's colleagues to get tested.
As part of the campaign, Teal will be advocating on behalf of The Testicular Cancer Network within the Group and encouraging conversations amongst colleagues.
Teal Scaffold Head of Operations, Dan McGregor says:
"We are encouraging the men in our team and our wider Group to take their health seriously. We are always looking for ways to further elevate key health messages to our colleagues, customers and beyond."

"Just like the checks we perform on scaffolding to ensure health and safety; testicular self-examination should be a part of our daily routine too. It is incredibly important that we support Testicular Cancer Awareness Month. It is remarkable the work that The Testicular Cancer Network are doing and hopefully we can help amplify their message. Awareness will save lives."
Community Engagement Manager, Darren Couchman at The Robin Cancer Trust shares:
"It is so important that men get to know the signs and symptoms of testicular cancer and how to carry out a self-examination. Us chaps need to talk about our health more and break the stigma that testicular cancer is an embarrassing illness. It's not. As a testicular cancer survivor of 21 years, I know first-hand how vitally important it is to be aware, perform a monthly self-check and not to be embarrassed to visit your GP. It's fair to say that if I wasn't aware of what to look out for, I wouldn't be here now. It's fantastic that Teal Scaffold is advocating testicular cancer awareness amongst their employees. With companies like Teal Scaffold supporting the cause, we can reach so many more men with our life saving campaigns." 
Testicular Cancer is the most commonly diagnosed cancer for young men in the UK, but if detected in its early stages, it's 98% curable.
For a guide on how to check for testicular cancer, or for more information on how to join, support or donate to the charities visit The Orchid Cancer Charity,  Testicular Cancer Charity , Robin Cancer Trust or Baggy Trousers UK.