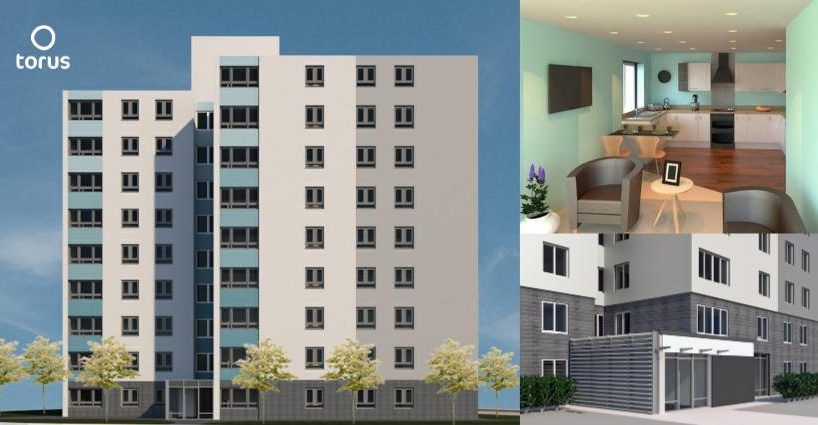 Teal Scaffold, part of the The Sovini Group, has been appointed as the contractor for a major £5million improvement scheme in Latchford, Warrington.
Following a competitive tender programme, the leading scaffold firm has begun erecting the bespoke access solution on the nine-story high Kingsway House.
The 1960's high-rise, which contains 51 one and two-bedroom apartments, is owned by the Regeneration Group, Torus.
Torus members', HMS, have been appointed to conduct the remodelling of the high-rise block which will be fitted with new windows, kitchens, bathrooms, front doors, balconies, and a lift.
The building will also benefit from a new wall insulation system, with the external walls finished with non-combustible render, incorporating stone wool insulation.
Teal Scaffold's highly skilled team are in the process of installing a bespoke Tube and Fit solution, which incorporates an system staircase design and passenger hoist to facilitate the regeneration work.
Torus Asset Project Manager, Ste Simm, says: "The £5million investment in Kingsway House demonstrates Torus's commitment to investing in our existing homes. The refurbishment will create a modern block that will not only look great, but will also help to reduce carbon emissions, whilst benefiting tenants by improving energy efficiency,  and making their homes warmer. The excellent service Teal Scaffold is providing facilitates the essential refurbishment works on the building".

Head of Operations at Teal Scaffold, Dan McGregor add3e: "We are delighted to collaborate with Torus and HMS on this project. Our organisations are like-minded and share strong sense of social responsibility. The Kingsway House contract demonstrates our aptitude, skills, and experience for competing at the highest level in the sector." 
Teal Scaffold have continued to secure work across the social housing sector since their inception, securing high-profile contracts along the way.