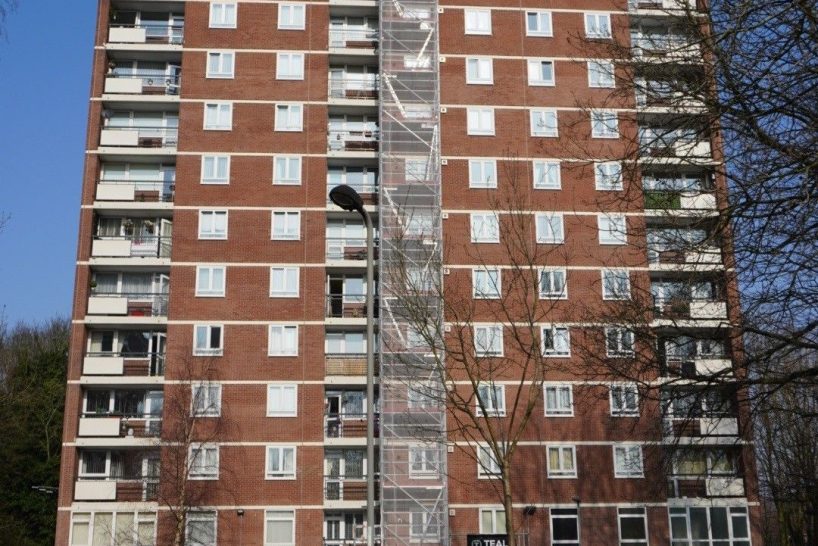 North West based, Teal Scaffold is playing a pivotal role in the regeneration project of four social housing tower blocks in Woolton, South Liverpool.
The Riverside Housing Group acquired four high-rise properties which are home to 230 tenants, as part of a successful stock transfer from affordable housing firm, The Guinness Partnership back in 2021.
Following the acquisition, a high number of essential boiler repairs were identified by Riverside's maintenance and repairs firm Evolve Facility Services. The tower blocks, inclusive of 170 flats were the latest properties to benefit from Evolve's impressive investment works programme.
Given the businesses outstanding reputation in the industry and prior experience on large scale high-rise projects, the award-winning maintenance firm acquired Teal Scaffold's high-quality services.
Considering the complexities around the removal of the old boiler fluid Teal partnered with Buckley Design Solutions (BDS), a specialist scaffold design firm.
Ahead of Evolve's planned start date in March, Teal commenced the erection of their unique 360° Layher connection technology in February.
The bespoke solution which reaches 37 metres, ensures that Evolve's Gas Team can work safely on their boiler replacement programme – ensuring clients homes are safe, secure, and well maintained.
Facilitating the essential refurbishment work, Teal Scaffold have erected and dismantled scaffold for two of the four tower blocks with a scheduled completion date of September.
Head of Operations at Teal Scaffold, Dan McGregor said: "This is a significant project to be involved in and one that boosts our credentials in the social housing sector. We pride ourselves on the quality of our work and our aim is to raise the standard of scaffolding across the housing sector and beyond. We believe our latest project with Evolve Facility Services achieves this."

Director of Operations at Evolve Facility Services, Terry Shrimpton adds: "This has been a challenging project to deliver. The collaboration between Evolve and Teal Scaffold has been first class. The feedback from our team regarding the firm has been excellent and we are looking forward to working with them on more projects in the future."