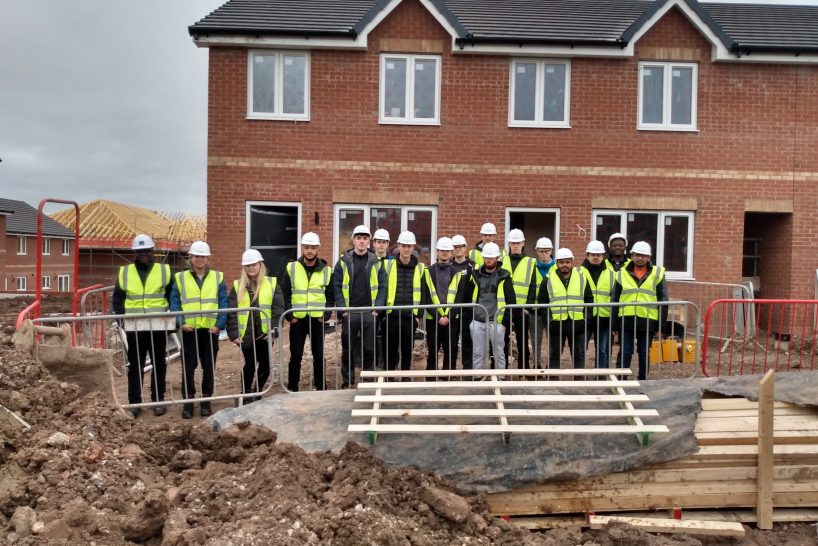 First Year Construction Management Students from Liverpool John Moores University were welcomed by Sovini Construction to both The Dell and Morris Meadows sites.
The Level 4 students gained valuable insight into the management of construction sites at different stages of their development. The Dell, with 38 houses and 23 apartments, situated in Birkenhead is mid-way through the programme and Morris Meadows site with 91 houses and 58 apartment has just begun.
Project Manager of The Dell development, Warren Lee lead an on-site tour for the students. During the session, students gained insight into the construction processes from groundwork, bricklaying, first fix M&E, joinery, plastering and completion stages of the properties. Including a tour of a finished property.
Construction Management students are interested in the design and construction of buildings and Sovini Construction assisted in enlightening the students on how construction has become more complex as technology and the mechanisation of the building process has developed. The aim of the session was to help students identify the factors affecting the design, procurement, sustainability and management of the building process, with a particular focus on production and project management.
Dr Fiona Borthwick, Interim Subject Leader, School of Civil Engineering and Built Environment at Liverpool John Moores University commented:
"The site visit really helped the students appreciate the technology in real life. The visit enhanced the students understanding of the material they are given in the classroom. Thank you to Sovini Construction for providing these students with their first experience of a live construction site".
In addition, The Sovini Groups Senior Health and Safety officer, Alex Wignall discussed with the students on how Sovini Construction set up CDM folders for the site and explained how they carry out health and safety site audits.
Project Manager, Warren Lee commented:
"With both projects in different stages of development it was a fantastic opportunity for the students at Liverpool John Moores University to learn from. To witness the students, interact so passionately and to be a part of their development journey was fantastic".
Steve Parrington, Managing Director of Sovini Construction, commented:
"We were delighted to host the students to assist them in enhancing their understanding of live construction sites. Hopefully this is just the latest chapter in our partnership with Liverpool John Moores University and we look forward to expanding our engagement even further in the future".