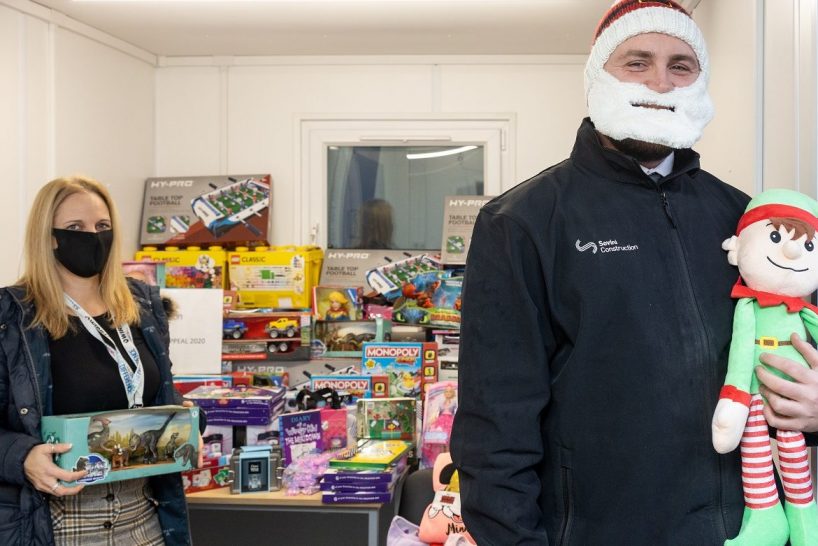 The Sovini Group's construction arm, Sovini Construction, have been working with partner organisations to help raise money for local initiatives in the lead up to Christmas.
Supporting The Group's ethos of success through collaboration, Sovini Construction have partnered with Architects, Engineers and Sub-Contractors working across two of their new build sites in Seacombe, currently being built as affordable housing for Group members One Vision Housing.
In addition to contributions made by Sovini Construction, donations were also received by partner organisations AHS Plastering Systems Ltd., HALO Facilities Management, K Jones Joinery, K2 Aluminium Systems, Condy Lofthouse Architects, Shape Engineering, Nicol Thomas Architects, Redwood Brickwork and Frame Tech Structures.
Toys for the appeal were purchased at the Bidston Moss Tesco Extra and Debbie Layfield, Community Champion for Tesco, was so inspired by Sovini Construction's efforts that she had a full trolley of toys donated to help with the initiative.
Each year Wirral Council arrange various activities to ensure vulnerable children receive presents over Christmas. Unfortunately due to the impact of the coronavirus pandemic, the council are concerned that contributions are likely to reduce in 2020, making it more important than ever to help support local communities.
The Wirral Foodbank, which forms part of The Trussell Trust foodbank network, will be receiving food and monetary donations to help provide support to Wirral residents in need.
Trussell Trust research estimates that 846,000 parcels will need to be provided by their network to people in crisis from October – December 2020 – a 61% increase on last year.
John Davies, Contracts Manager for Sovini Construction, said:
"I would like to thank all of our partner organisations for their extremely generous donations and Debbie Layfield at the Bidston Moss Tesco for working with us in store to get the toys and food we needed for our donations. At Sovini Construction we do more than just build homes, we help create communities, and it's our hope that these donations will help improve the local area by providing support to those who need it most over the Christmas season."