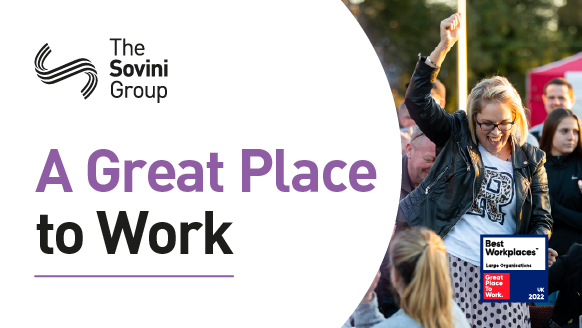 UK's Best Workplaces™ 2022 names Merseyside's The Sovini Group amongst best UK employers in the country for 2022.
The Sovini Group, employing over 850 employees, has featured as one of the top three employers for the sixth consecutive year, achieving laureate status once again.
DR Roy Williams, Chief Executive Officer of The Sovini Group, said: "It is testament to the hard work of all our employees that we have established such a stellar reputation. I would like to thank each and every colleague for the difference they make to thousands of people on a daily basis and their part in helping us achieve so much. Our ethos of creating opportunities and changing lives is strongly driven by our employees."
The Sovini Group now has the opportunity to be named among the top 10 best workplaces in Europe, with the announcement taking place later this year.
Benedict Gautrey, Managing Director, Great Place to Work UK said of the achievement. "There is little doubt that The Sovini Group are a great company to work for. They have an extremely impressive track record of achieving, or battling for, the top spot on our UK's Best WorkplacesTM list – and so it was no surprise to see them appearing in the top 2 again." He continued "We have seen from their employees' comments how the company's ethos to create opportunities and change lives is lived by all and they are true champions of creating an equal, diverse and inclusive workplace for all to thrive in. The 'for all' commitment by the Group speaks volumes and is core to Great Place to Work®'s recognition methodology; striving for every single employee, no matter who they are or what they do for their company, to have a consistently positive experience at work – and recognising the organisations positively working towards that goal."