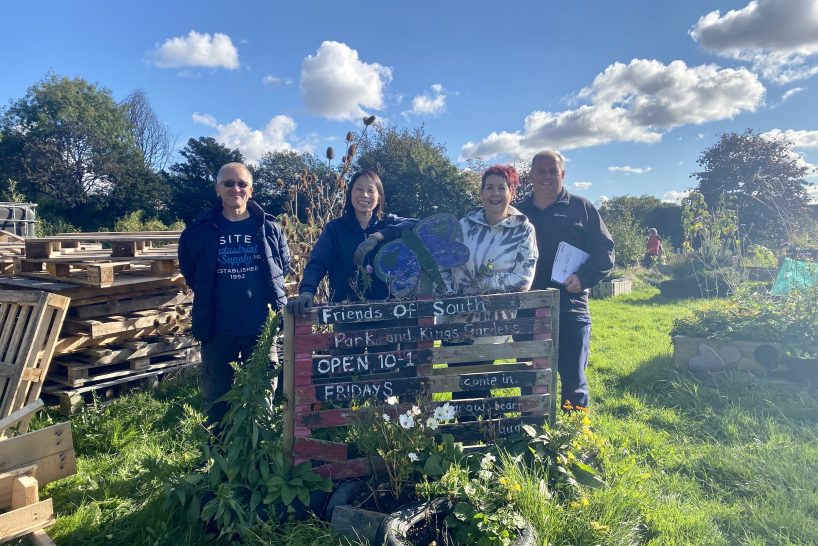 The Friends of South Park volunteers braved the storm on Monday to ensure their community garden got its spring clean. Upon hearing this, Sovini Waste Solutions, part of The Sovini Group, offered to donate a skip to help the group with the clear-up.
Approximately 10 volunteers were on site to help clean, including members of local community group Taking Root, and the skip was put to good use before the end of the day. It was then taken to the Sovini Waste Solutions site in Bootle, where it was sorted and recycled accordingly. The community garden is now looking spotless thanks to the group's hard work and the great collaborative effort from all.
Taking Root have a close relationship with groups such as The Friends Of South Park, and work together to ensure communal gardens and parks are well looked after. Starting in 2015, Taking Root's aim is to build a collaborative network of the community gardens, food and health projects, and to build community resilience and improve health and well-being.
Christine Leung, the Taking Root in Bootle coordinator, has supported Friends Of South Park in developing the garden since 2017. The site was previously a bowling green, and the volunteers have created a garden that has received, and maintained, a Community Green Flag award.
Christine said "the skip from Sovini Waste has really helped with clearing the garden after two years of disruption with lockdowns. It means we can start making improvements to the site which will benefit the community when the growing season begins. Thanks again to Sovini Waste Solutions!"
Sovini Waste Solutions feel incredibly proud to have helped with this project which led to a great communal garden looking spotless. This is also not the first time Sovini Waste have donated to Taking Root. Back in January, the team donated tree stumps which were transformed into drums, providing endless fun for children in the community over the festive period. Long may the collaborative effort continue!
Sovini Waste Operation Manager, Tony Beckett, commented "Sovini Waste are proud to support our local communities and were more than happy to donate one of our skips to the South Park project. We hope the community garden clean-up project went well and you made good use of the skip."
For more information about skip hire and waste management, please visit www.sovini.co.uk/waste. For more information about the Friends Of South Park, please click here.